Feature Car – Shawn's Supra


We was chatting to our guys at Rotashop about some of the nicest cars they have come across, a car that got brought up was an absolute ledgend, The Toyota Supra, The conversation moved on and we remembered Shawns Supra.
A customer we had the pleasure of dealing with a while back. so we digged through the archives and found the blog post on Rotashop.
Check it out guys.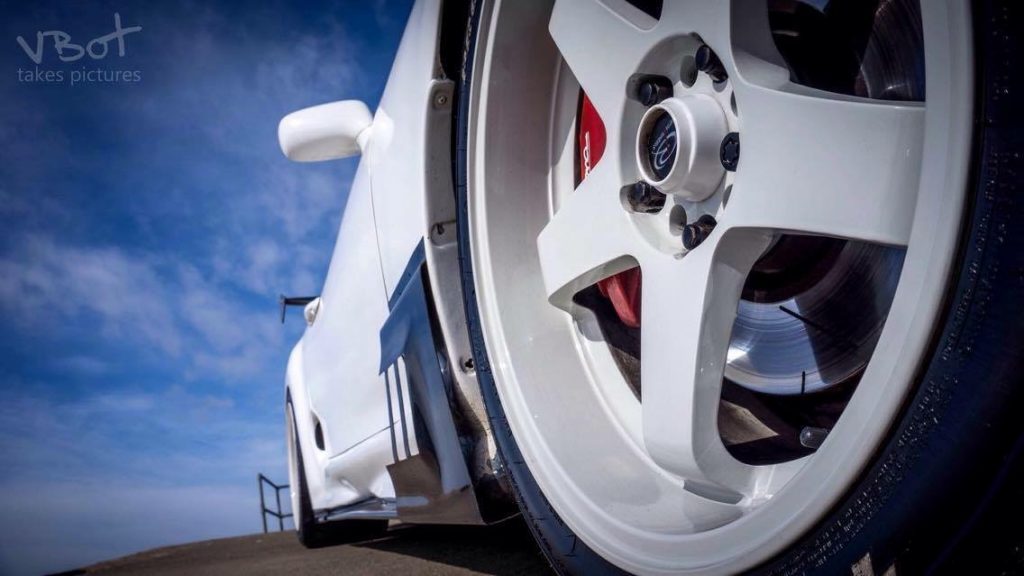 Owner: Shawn
Car: Toytota Supra 1994
Wheels:
Front 18×10 et35 Rota GTR-D
Rears 18×12 et20 Rota GTR-D
Tyres:
Front – Toyo R888 265/35/18
Rear – Toyo R888 315/30/18
Suspension:
Tein adjustable Coilovers
This is deffinatley a car to be featured, It's fair to say that the Rota GTR-D's often get put on high powered rear Wheel Drive beasts however, when cars like this pop up it is clear why.
So firstly
What got you into cars?
The group of friends I had was always into cars so naturally the interest came from there.
What have you owned?
2000 Ford Fiesta 1.25 (1 ½ years)
1990 Toyota Supra 3.0 Turbo (6 months)
1994 Toyota Supra 3.0 Twin Turbo (1 year)
1995 Volkswagon Golf 1.9 diesel (1 year)
1990 Toyota Corolla 1.6 gti-16 (AE92 shape) (8 months)
1991 Toyota Supra 3.0 Turbo (1 year)
1993 Toyota Supra 3.0 (5 years)
1992 Mitsubishi GTO 3.0 Twin Turbo (1 year)
2001 Ford Fiesta 1.25 (3 months)
2003 MG ZR 1.9tdi (1 year)
2008 Vauxhall Insignia 2.0tdi (1 year)
2004 Toyota MR2 1.8VVTI (1 ¼ years)
1994 Toyota Supra 3.0 Twin Turbo (6 months)
1994 Toyota Supra (car in this feature) (current car, since jan 2015)
2007 Mitsubishi Lancer 2.0 (8 months)
2007 Honda Civic 2.2 cdti (current car, since jan 2016)
A lot of these cars have overlapped as iv usually owned at least 2 if not 3 cars at the same time.
Wow, That's quite a car list, It must have kept you busy what was/is Your Favourite?
My favourite is my current Supra just because of the level of work I put into it and the fact that it is what I've always wanted from a Supra.
The pictures show quite a modified Car, It's deffinatley not Standard What have you done to the supra?
Alot, when I purchased the car it was stock body and stock interior but did have a single turbo conversion, I stripped the car down to the shell to rebuild it how I wanted which included the custom trimmed interior, control panels, widearched body kit (fully bonded and blended by bodyshop), ICE and a few supporting performance mods.
Mod list?
Turbocharger & Induction:
Boostlogic T67 dbb turbo kit with 3″ downpipe (Single Turbo converted from the standard twin turbo)
HKS wastegate
HKS BOV
HKS Intercooler
4″ Induction pipe with K&N Air Filter
HKS EVC4 boost controller
Fuel, Tuning & ECU:
HKS Vpro Gold V3.2 ECU
Aquamist direct port methanol injection
HKS fuel rail
HKS 1000cc injectors
Boostlogic twin pump fuel system and fuel regulator
JUN based inlet manifold with q45 throttle body
Aluminium radiator
Greddy Catch can
HKS Timing pulley
HKS Dli
Side mounted Oil cooler
Side mounted Power steering cooler
HKS Knock amp A/F meter
HKS Fuel Adjustment controller
Boot Battery relocation
Washer bottle relocation to boot
Exhaust:
3″ Whiffbitz Stainless exhaust
Drivetrain:
V160 6 Speed Manual (converted from the stock Auto)
Suspension, Wheels, Tires & Brakes:
18″ White Rota GTR-D'S…..
Front 18×10 et35 with Toyo R888 265/35/18 Tyre's
Rears 18×12 et20 with Toyo R888 315/30/18 Tyre's
Tein adjustable Suspension
UK Spec Brakes with uprated pads
Whiteline front and rear anti roll-bar kit
Braided brake lines
Interior & ICE:
Full Interior Re-trim in Oxblood Red and Black Leather
Recaro Speed Seats
TRD Steering Wheel
Carpet Dye'd Black
Carbon Upper Glovebox
Carbon Center Console Lid
Carbon Ashtray Lid
EGT sensor/dial
Fuel pressure dial
Oil pressure dial
Sparco Gear Knob
Metal Monkey Dials
Blue LED Instrument Conversion
Polished Dash Rings
JVC Double Din DVD Headunit
2 x Vibe QB69 6×9's
2 x Vibe BlackHex 69 6×9's
JBL Amp
Custom built boot install
Exterior:
Ridox Front Bumper with Carbon Splitter and Canards
Ridox Wide Front Fenders +30mm
Ridox Wide Rear Fenders +50mm fully blended
Ridox Side Skirts with Carbon Lower Section fully blended
Carbon GT Rear Spoiler
Carbon Air Diverters
Standard UK Spec Bonnet
LED Rear Lights
UK glass- Zenon headlights
Brake Calipers Painted Rosso Red with Supra Logo's
Aerial Removed and Smoothed over
Likwidart Badges on Rear
Engine Bay Dressup
Carbon Spark plug Cover
Polished Cusco Strut Brace
Polished Oil Cap
Polished Radiator Plinth with Supra Logo
Polished Fuse Box Lid cover
Polished Relay Box Lid cover
Polished Fan Surround
Security Devices
Clifford Thatcham approved Alarm
Dash Camera (Front Facing)
With such a huge spec, it will be hard to pin it down but what is Your favourite thing about it?
The widearch, having the widearch and therefore wider wheels (18×12 Rota GTR-D's on the rear with 315/30/18 Toyo R888 tyres) made a huge difference in putting the power down on a nice dry road surface.
Whats next? I.e new car or more power etc.
To stick with this car but to get the most I can out of it, I've had quite a few targets along the way and when I've hit them all I have further extended my targets, this will continue so
will see a few differences in styling but also will see good performance gains.
how did the wheel fitting go? did it need the body kit? arch rolling?
Wheel fitting was great and the offsets used fit the car perfectly, especially as I am widearched so was important to find the right size and offset to obtain the maximum size of wheel I could fit within the arches.
Anything else you wish to add?
This has been my biggest project to date and am very proud of what I have come up with, I don't have an exact power figure for what its running now but it was running 690.8bhp at 2.0 bar of boost and now its running 2.3 bar boost so will be nicely into the 700's.
The look I am very pleased with and the Rota GTR'D's really set it off nicely.