Workers Whips – Brian's Polo
Well here it is folks, the much anticipated article of the week on the world wide web, the blog on "Dangerous" Brians VW polo. This forever changing, infamous Polo has only blessed POTN for a small amount of time. After a while, when we finally stopped making jokes about how slow it was, we realised this car gave us something, it makes us feel young again. I often found myself looking out at the car and realising it's why alot of us got into modding cars. Little cars like this, where parts are vast, cheap and make it easy to modify quickly, making them our own. We all had something similar whether it was a Suzuki Alto, Clio, even the odd Metro, this list is neverending.
So take a moment and appreciate the pictures and read the write up. Here it is readers, Brians Polo…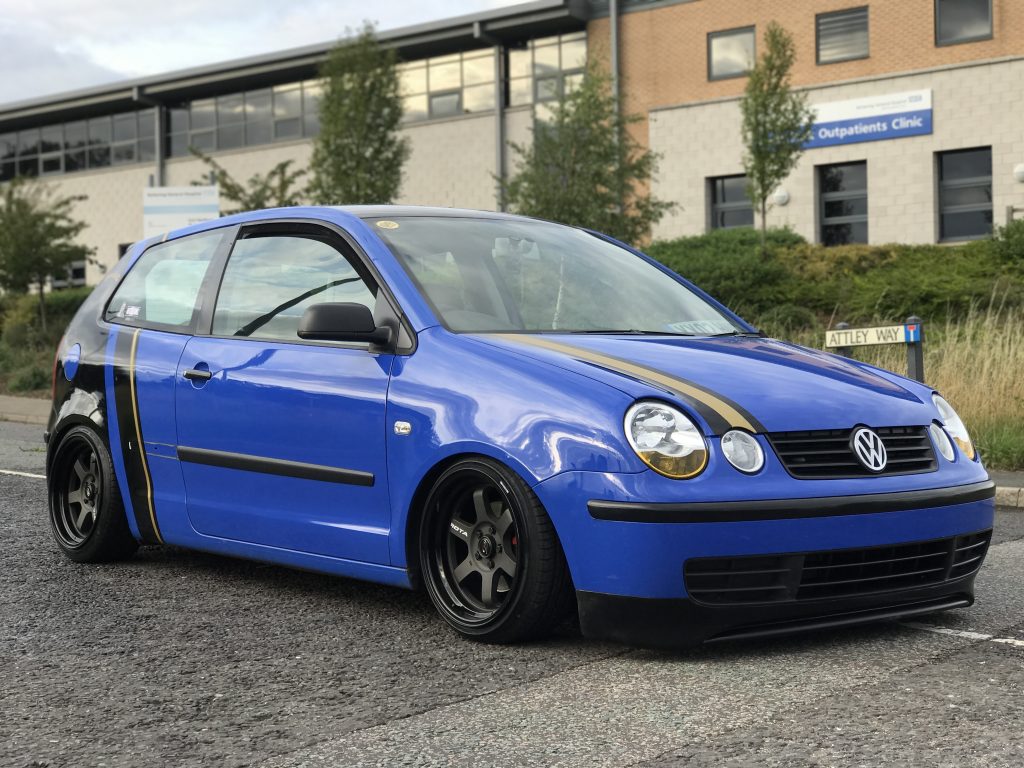 (The Rota Grid-V's have been partnered well with the black front splitter and graphics on the side)
WHAT MODEL IS YOUR CAR?
VW Polo 9N 1.2
WHY DID YOU CHOOSE THE POLO?
Cheap starter car and rather cheap to insure.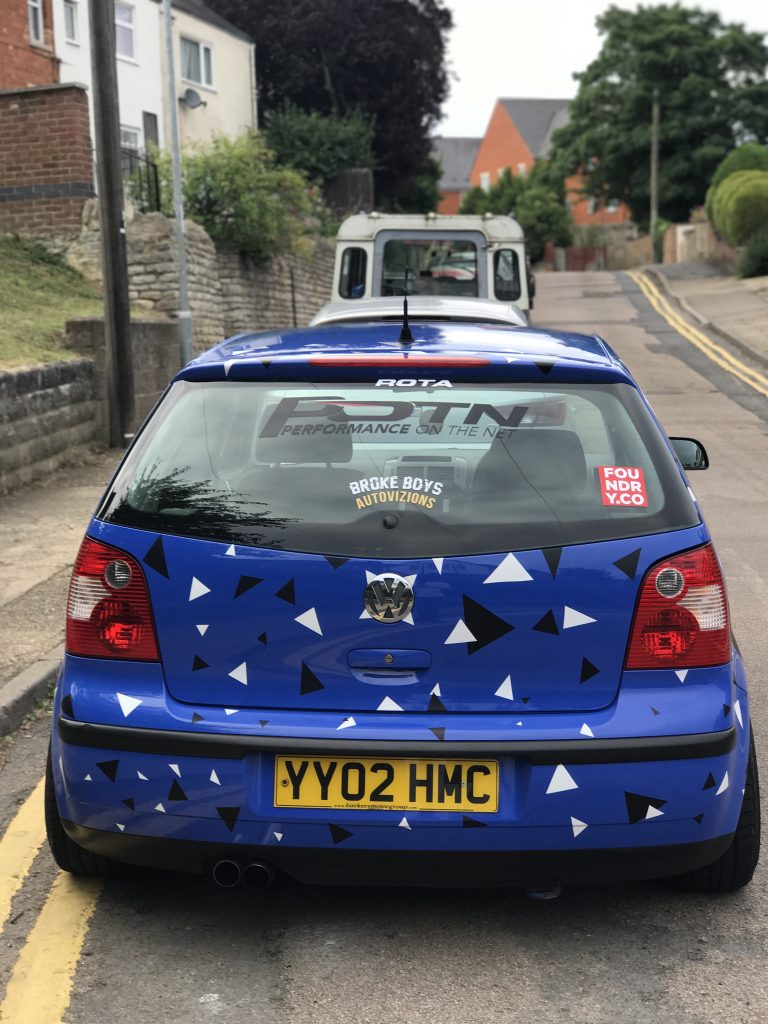 (The Triangle effect really gives the car more of a presence)
WHAT GOT YOU INTO CARS?
The door? (everone's a comedian)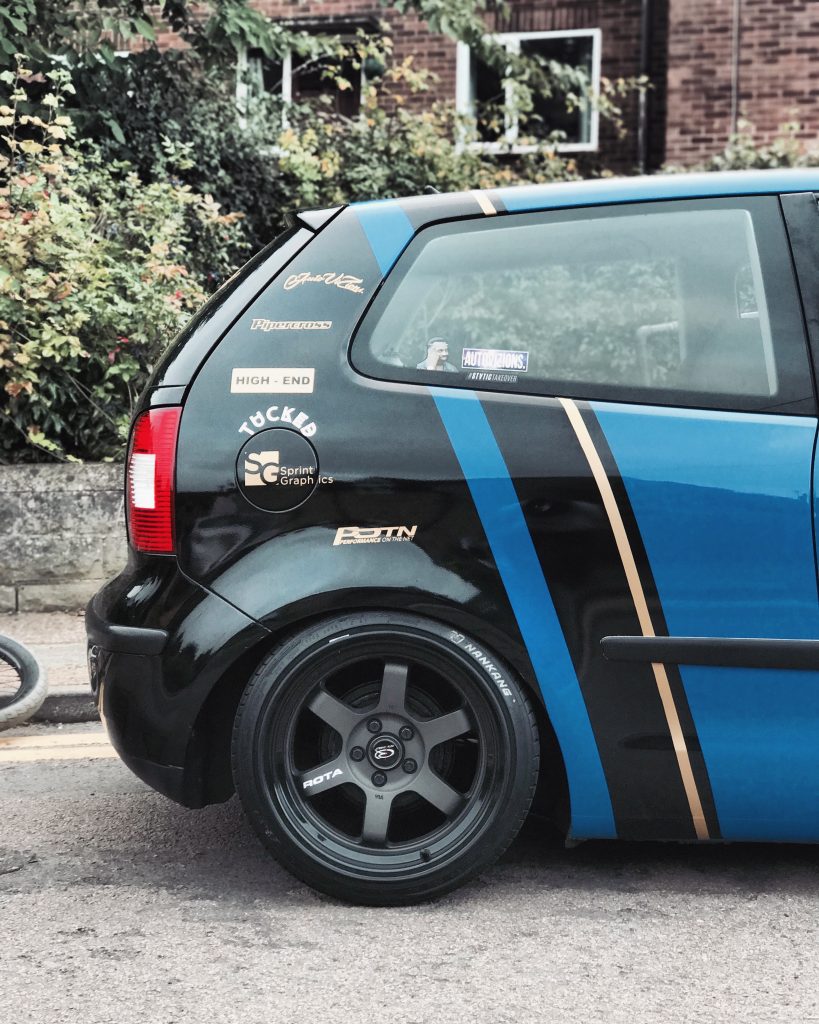 (This kid has thought alot about the colour combinations down to stickers, wheels and the angles they're placed at)
WHAT HAVE YOU DONE TO IT, IT LOOKS PRETTY WELL MODIFIED?
It has quite a I bit of "tasteful" modifications done. Well I suppose it is tasteful if you like leaving lines of filler on any uneven road from the numerous splitter repairs! It was looking very plain until I started at POTN. All of a sudden, I found myself falling back in love with it after purchasing a set of Rota Grids From Rotashop. Cheeky little numbers they were too and I loved the colour combo as soon as I saw them. At this point it only had coilovers on it so these MADDD wheels changed the look for the better, for definite. I was then on a mission to find what we do that I could make fit to the car or see what bolt on options we had. Then I discovered that I could make a Large Pipercross Air filter fit into the tiny throttle body of the car. I don't know how, but it started to make the tiny engine sound like a K20 rice machine. It sounded so funny that it had to stay! Next was an Ultra-Racing rear strut brace.  THEN I discovered that I had some vinyl wrap so I cut triangles out and went abit mad for a few weeks but it looked Fricken awesome. It turned heads ( Probably because people thought I was special, but hey ho). I applied myself to a boot build, as I had never done one before and was desperate to replace the headunit with a tablet. We removed the interior in the back and got to work with the MDF, building a large boot build, including a subwoofer and 6×9's, relocating the headunit to the back and then bluetoothing the tablet on the dash. After a while I got bored again and wrapped it using a different combo of colours (as seen in the photos from triangles to the black and gold). This was my favourite design, it matched my friends Golf and they looked exceptional when parked together at shows. This wonderful story shortly came to an end! The Polo broke down on me and had no Driveshaft's intact anymore. They had finally given up on me so I replaced them. The love for the Car had died and I was DONE. I put it up for sale and it sold rather quick. That's the story on the Polo (Queue the "SEEE YOU AGAIINNNN").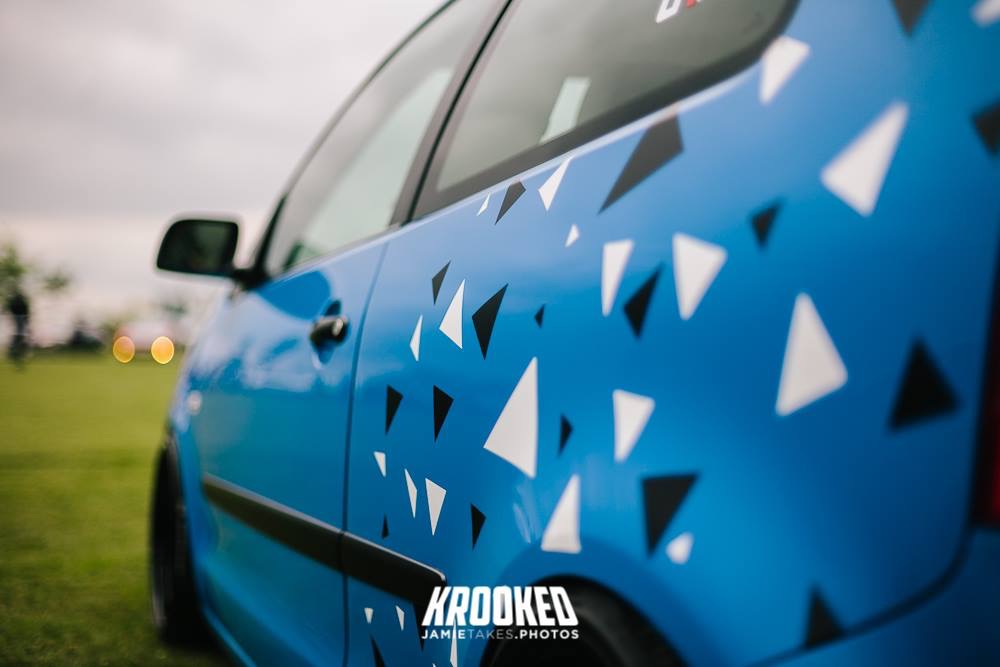 SO YOU'VE BROUGHT A VW UP?
Because it would still eat Adam's Honda mwahahhahahahahaha. (he has no proof of this, I asked)  Honestly? It's because they go DIRTYYY LOW & and they kind of remind me of a Lupo and I want one of them as well haha.
WHAT ELSE IS PLANNED?
If I told you I would have to kill you…(Very secretive….too secretive)
SO YOU LIKE SMALL CARS THEN?
No I like cheap insurance haha. 
WHAT'S YOUR DREAM CAR?
Definitly a R35 GTR there's really something about them.(Who doesn't love a GTR?)
Well thanks for that interesting look into your car bio Brian, even if it's a bit of a hate towards Hondas.
We definitely loved having it part of our workers whips car park and being part of the team. We're looking forward to writing the next blog on your UP and hope we can say the same then.
If you would like to know anything about the car such as the parts mentioned in this write up, or if you want to know why he is called "Dangerous Brian" when his name is James, then email us at sales@potn.co.uk.