---
---
The MATERIALS
Our materials are colour coded to make them easily identifiable. Below explains the shore rating and their common uses.
Red 65A – Used for our Universal exhaust mounts and diesel engine mounts.
Yellow 70A – Mainly used for engine mounts, diff mounts and subframe mounts or areas where the bush needs a lot of movement and absorption.
Purple 80A – Our most common material. This is used in most areas of the suspension and provides the right mix between performance and compliance.
Black 95A – Our hardest material. This is used for our Black Series range or on normal road vehicles where the vehicles suspension demands require us to use this hardness of material i.e. in areas of high load.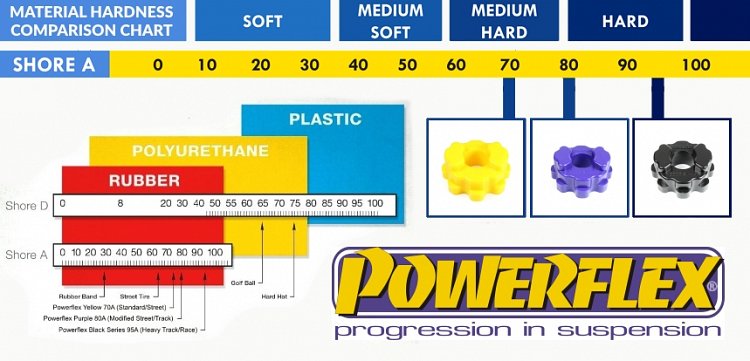 Grey* - Used specifically for our Heritage Collection. This can be any of the durometers mentioned but will always be the same as the equivalent part from our Road Series i.e. if it's Purple 80A in our Road Series, it'd be Grey 80A in our Heritage Collection.
On our Road Series and Heritage Collection kits, we can use a mix of all 4 of our materials. During the development stages, we test the original bush and see what the requirements are in terms of strength and movement. At that point, we then decide which of our materials would be best suited. We don't believe in a one material suits all rule. Manufacturers will do the same and will use different shore rubbers, however, it's not as noticeable as all rubber bushes look visually similar.
Can the Road Series be used on 'Tuned' cars?
Our Road Series parts would be absolutely fine for 'Tuned' cars and Fast Road use. They offer the right compromise between performance and compliance, something that most people require from a daily driven vehicle. Yes, fitting our Black Series parts is possible and has and will be done by many people, but naturally by going even harder with the bushes you are compromising the comfort of the vehicle and therefore you may experience a harsher and noisier ride. 
---