Forge Motorsport are excited to release our industry leading intake for the Hyundai i30N. This aftermarket cold air intake system improves your i30N's airflow in several key ways. It routes the air more directly into your engine, using a huge 102 mm diameter CNC mandrel bent alloy pipe. The aftermarket system also improves the airflow by adding a high-flow, high efficiency air filter in place of the more restrictive factory air filter. Finally, the cold air intake system is set up to allow cooler air to easily flow into your engine
The intake diameters on these air intakes have been carefully tuned to provide exactly the correct quantity of air ensuring solid consistent power gains throughout the rev range without any loss of low-end torque. The pipework is specifically designed to feed the turbo without interruption. The upshot to all of this is a gain of induction acoustics under acceleration, which improves the driving experience and adds a bit more drama to the Hyundai's 2.0 four pot engine.
As always filtration is important when developing an intake, so we once again turned to the industry leaders and Forge long term filtration partners Pipercross.
With over 25 years' experience in both the domestic and motorsport market they recommended a multi-layer foam construction filter, these filters work perfectly in our 'Hi-Flow' range. The large filter provided flows 60% more air than the stock filter.
The intake is finished off with our unique black thermal powder coating. This kit comes with Forge's usual detailed fitting guide to help make installation as easy as possible.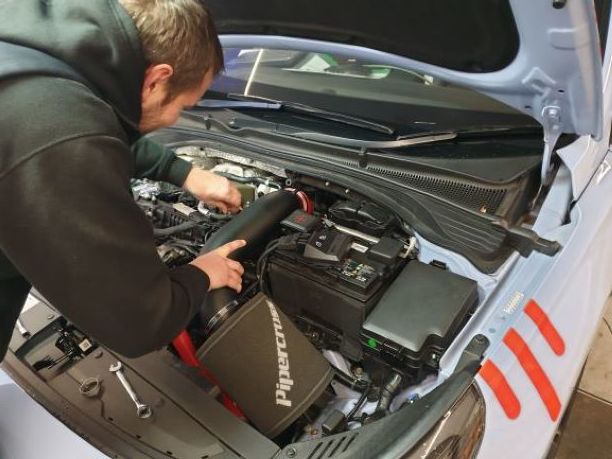 Delivery
The normal delivery time for all UK orders is 1-2 days if exporting outside the UK the shipping time is within the checkout process or you can contact our team and we will be happy to assist in advising you a delivery time.
If the delivery date is to be any longer than this time you will be contacted by one of the sales representatives.
All orders will be shipped by recognized carriers or The Royal Mail.
We can only Shop to the Card holders Address, Garage or Work address.
We are not responsible for any additional costs as a result of extended delivery times, unless prior consent is given in writing by a member A member of the Sales Team.
Goods are dispatched on the same day, Dependent on stock, If the Goods are out of stock you will be contacted by a member of staff to give you an expected waiting time for the Items ordered.
For International sales, the products will be sold VAT Free, the courier or customs will contact you for the TAX and duties payment when the product enters your country, if you are unsure or have any questions please contact us.
Pricing below is for mainland's only unless stated otherwise, whilst we do our best to ensure these prices are correct they are susceptible to change.
Please Note
For orders outside of the UK, The Checkout process will give you a Delivery cost, Please contact us for further information or any delivery Quotations to countries we do not list.
Please email. sales@potn.co.uk and we will get back to you as soon as possible. We will need your full delivery details and what you would like to order to provide a quote.
| | | |
| --- | --- | --- |
|  Country | Estimated Delivery time | Cost (GBP) |
| Austria | 3 - 5 Working days  | £50.00 |
| Bulgaria | 4 - 6 Working days | £120.00 |
| Bosnia & Herzegovina | 4 - 6 Working Days  | £120.00 |
| Croatia | 4 - 6 Working Days  | £100.00 |
| Czechia | 3 - 4 Working Days | £60.00 |
| Denmark | 3 - 4 Working Days  | £48.00 |
| United Kingdom | 1 - 2 Working Days | £20.00 |
| Estonia | 4 - 6 Working days | £60.00 |
| Finland | 4 - 6 Working days | £60.00 |
| France | 2 - 3 Working Days | £35.00 |
| Germany | 3 - 4 Working Days | £45.00 |
| Greece | 4 - 6 Working days | £60.00 |
| Hungary | 4 - 6 Working Days  | £60.00 |
| Ireland | 2 - 3 Working Days | £35.00 |
| Italy | 3 - 4 Working Days | £60.00 |
| Latvia | 4 - 6 Working Days  | £60.00 |
| Liechtenstein | 4 - 6 Working Days  | £60.00 |
| Lithuania | 4 - 6 Working Days  | £60.00 |
| Luxembourg | 4 - 6 Working Days  | £35.00 |
| Monaco | 2 - 3 Working Days | £45.00 |
| Montenegro | 4 - 6 Working Days  | £120.00 |
| Norway | 4 - 6 Working Days  | £120.00 |
| Poland | 3 - 4 Working Days | £60.00 |
| Portugal | 3 - 4 Working Days | £60.00 |
| Romania | 4 - 6 Working Days  | £60.00 |
| Spain | 3 - 4 Working Days | £60.00 |
| Sweden | 4 - 6 Working Days  | £55.00 |
| UK ( Channel Islands) | 2 - 3 Working Days | £25.00 |
Pipercross Hyundai i30N Ind...


£363.94
Eibach Pro-Kit Performance ...


£259.00
Forge Induction Kit for Hyundai i30N and Veloster N